Benefits of Using Roof Guardrail Systems for Your Company in the United States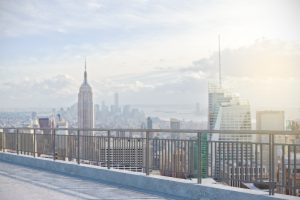 Contractors who perform work on a rooftop are involved in some of the most dangerous work available. One way to make sure that your employees are protected is to ensure that you install roof guardrail systems. These structures greatly reduce the potential for a fatal fall or severe injury.
What Do Roof Guardrails Do?
A guardrail system is a product that is constructed on commercial, or industrial buildings to help prevent falls. This type of protection is often used to protect roofing contractors or other employees who will be making significant repairs or construction on the roof.
What Types of Roof Guardrail Systems Exist?
Guardrail systems for roofs typically come in two styles: free-standing and permanent. A free-standing guardrail does not require any drilling in order to be attached to the roof. These types of guardrails are still compliant with the OSHA guidelines, but they do not require nearly as much work to install. Another benefit of a free-standing guardrail is the fact that they allow greater access to the roof that a worker may be trying to fix. In contrast, a fixed roof rail offers greater long-term protection and must be attached to the roof.
Difference Between a Fall Arrest System and a Guardrail
Some companies may try to have a fall arrest system instead of a full guardrail system on their roof structures. A fall arrest system helps to stop a fall, but it does not prevent one. In contrast, a guardrail system is designed to help prevent a person from falling at all.
Safety Rail Source LLC. produces safety products and can be contacted online. For more information, visit their website.