Tips for Better Hallway Painting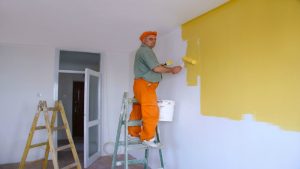 When you walk down your hallways, you may not pay much attention to the walls. However, your peripheral vision catches more than you think and this can affect you subconsciously in a positive or negative way. Painting companies understand hallway colors and color patterns and these things are an important part of their services. Here are some helpful tips from your paint professionals, for making this part of your Kenmore home more interesting and appealing.
Wear and Tear
Your professional painter from Rite Painting can help you choose the best colors and paints. For hallways, durable paint is best for the job. Hallways get a lot of traffic each day, and they need walls that resist rubbing and can be easily cleaned. If not, you could find yourself repainting sooner than you think. Consider a latex based paint with a semi-gloss finish. When you don't want something shiny, a satin finish will work. If you buy a premium paint, you'll get the best results, because it is made to last.
Changing Perception
You can make small hallways appear larger if the ceilings are darker than the walls, making the walls look taller. If your hallways present a "closed in" feeling, consider painting the walls a light color. Painting companies may recommend other tricks like adding mirrors or lighting to brighten a hallway and make it look bigger.
Light
Chances are, your hallway doesn't have any windows. That's why many homeowners in Bothell opt for lighter colors. Off-white is a popular selection and so is light blue or green. If you have adequate lighting or windows, you can go with darker colors and still not create a "cramped" or "crowded" look.
When you need help painting your home interior, consider your local interior and exterior painting services. They offer complete services and a satisfaction guarantee.
Follow Rite Painting on Twitter for more updates!