When Do You Need a Heating Contractor?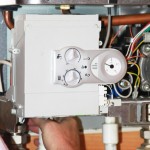 Learning about how your home works is also about learning how to make it work better. This could mean changing your heating system to something that is more efficient, quieter, regulates temperature better, or all three (and more!). Upgrading your furnace might not be enough and if you're considering turning to the option of a whole new system, a heating contractor is in order. Find out how you can change the way that you achieve comfort in the cold winter months without any damage to your home.
Options for Change
The decision to change the way you heat your home could be simple or complicated, depending on the changes that you want to make. Simple changes may not require much work and, if that's the case, a heating contactor won't be necessary.
* If it's just one room in your house that the heat isn't reaching, a small space heater could be all that you need to solve the problem. This is especially true if the room in question isn't used very often.
* A large house with big open spaces can be difficult to heat no matter what system you're using. Ceiling fans can move the air around so that it reaches each part of those drafty rooms but this is one of those times where a new system could be more efficient and cost effective when heating your home and a contractor should be called for help.
* Small rooms can cause a similar dilemma if there are too many vents in one room. Instead of the heat not reaching every space, the room becomes too hot due to the cramped area. A contractor might be able to help you find a better system and better vent placement to keep the entire house heated evenly.
* Efficiency is key in keeping your house warm in a cost effective manner. A whole new heating system could be exactly what you need to reduce your carbon footprint and save money all at once. A contractor will help you find a quiet system that provides warmth, comfort and safety in a manner that makes you feel good about the limited energy that you're using.
Your Decision Made Easy
As you do your research on the right heating system for your home, the vast amount of options that you learn about could seem to make your decision more difficult. There's no need to stress about what you'll do next. The right company and a heating contractor will help you sort out what you need to know so that the decision doesn't make you sweat. RA Heating and Air Conditioning will point you in the direction of trusted professionals that will answer your questions and give you the expert service that you're looking for.