The 3 Main Reasons Your Gutters Need Guarding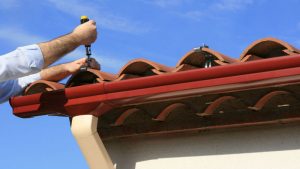 With the spring season well underway, you might be expecting a lot of rain this year. With the rain comes the inevitability that your gutters will get clogged with debris such as leaves, pine needles, seeds, and more. No matter how well you maintain your gutters, without gutter guards they are prone to getting clogged and leaky.
The best gutter guards can protect your gutters from all of that grit and dirt that you don't want in your way. After installing a guard, you will be able to instantly notice the difference, reducing the chore of having to clear out your clogged gutters every season. Before you install your gutter guards, though, take a look at the 3 main reasons your gutters need guarding in the first place. What exactly causes these issues?
1. Clogs
The biggest problems your gutters can face is with clogging. It's easy for your gutters to get clogged with big leaves and clumps of debris that are blown off of nearby trees and plants. If there are twigs and needles in your gutter, it's a sure sign that you need to get them un-clogged as soon as possible. And then, install a gutter guard.
2. Shingles
Sometimes, your gutters aren't to blame for the amount of water that goes into them. The way your roof shingles or metal roof slats are positioned can actually worsen the issue of water overflowing your gutters. If the shingles are too far into the gutter, they will block a certain amount of space for your gutters to collect water in the first place.
3. Leaks
If your miters or end caps are improperly sealed, they can be prone to leaks. It's obvious that gutters will suffer some wear and tear as they face the beating sun all day, but without proper protection and sealant, the risk for leaks just increases. A gutter guard can keep your gutters from getting warped as often, and can protect your galvanized metal against rust and holes.
Want the Best Gutter Guards in the Business? Contact Best Choice Home Crafters Today!
At Best Choice Home Crafters, we can provide the best in gutter guards and gutter protection services. If you're looking for more information on how to best protect your gutters, you can download our free guide online to learn the best ways to get the most out of your gutters. For more information, you can contact us online or give us a call at (404) 855-4000 to speak with a friendly representative.  You can follow them on Twitter for latest news and updates!