Spring is Good for Painting!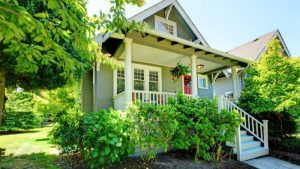 When you're looking to do some exterior painting for your home, business or other structure, you may wonder what time of year is best for planning your paint job. While most professional painters can manage interior jobs at any time of year, exterior painting is best done during the warmer months. Spring is the best option for most.
Why Wait?
In most parts of the continental United States, spring offers a rare window of near-perfect weather for painting. While sunlit days are warm but not yet oppressively hot, evenings and nights are equally mild, and humidity is still relatively low. All of these factors make painting perfect for spring.
Additionally, many sales of paint and other supplies are held during the spring. With tax season just behind most Americans, refunds are on their way, and major home improvement projects are on their minds. To capitalize on this, most paint manufacturers are charging less for their products, which means savings in-store for DIY consumers. For those that prefer to trust their paint jobs to professional painters, your painter can secure your supplies and pass those savings on to you!
Who Recommends Spring as the Best Time for Painting?
Home Partners recommends waiting for the arrival of spring if you're able to for the best possible painting results. And we should know. Home Partners is a group of professional painters serving the areas of White River Junction, VT, Hartford, VT, Hanover, NH, and Lebanon, NH. We offer the highest level of service and expertise to our residential, corporate and commercial customer, with options available for painting, carpentry, decking and much more. Book an estimate today, and see why making homes better is what we do best!