Preventing Rust on Your Wrought Iron Fences in Chicago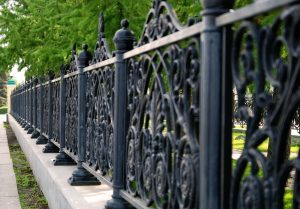 Wrought iron fences in Chicago can add a nice tough to any home and can become part of the landscape of your home. Unfortunately, the weather and climate can be hard on all sorts of material, including wrought iron fences, and it can be difficult to find a way to maintain the look and the feel that you want when you purchase these kinds of fences. If you do decide that wrought iron fences are perfect for your home, there are a few things that you should keep in mind in order to maintain the look and appearance that you want. This includes learning methods to prevent rust and the wearing out of your gates along with ways to restore your wrought iron fences when they do begin to wear out.
Prevention
The first thing that you will need to do in order to maintain your wrought iron fences in Chicago is to perform preventative measures to ensure that your gates are as good as new. You will want to start out by doing an inspection of you fences right after installation to see where some problem areas may occur; some spots to especially look out for include spots where the moisture is more likely to accumulate during rain and snow. There are a number of things that you can do to prevent rust and other problems to your wrought iron fences. This includes using a rust converter on these trouble spots, and even over the whole fence, in order to prevent the unsightliness of rust buildup on your fence. Make sure to paint over the converter with a primer in order to cover it up and give it the look that you are after.
Restoration
It does not really matter how much time and energy that you put into the fence and how much rust converter you spray on to the fence, there will still be the need for some restoration techniques to be employed. When it is time to perform a restoration on your wrought iron fences you will first need to do an inspection on the fence in order to check for cracks and rust that might be showing through the paint and other coatings and then mark any areas that you want to repair. Next you will need to use some sandpaper to remove all pain and dirt that are around the trouble spot to make restoration easier. You can then paint some primer onto the fence and a top coat to ensure the great look that comes with wrought iron fences. You might need to add a second coat after the first has dried. Contact Top Line Fence for more information.